Logo panel sign
KL Ads is a pioneer in the invention of modernized and captivating advertising services. We work towards designing distinctive signs, PVC wall Panels, and wall cladding for all sorts of businesses. We offer an array of diversified designs and color options for indoor and outdoor panel signs. Our trendy templates, vibrant color variants, and professionally designed graphic signs aim to lure your target audience with ease. Our powerful mechanism of designing makes us an industry leader in the field of custom signs and signage.
Dimension sign
Dimension sign services are one of the most integral components of our advertising strategies. We partner with you to create an ideal brand identity for your company. Our elegant dimension signs are of prominent value for enhancing your company's marketing skills. We help you build a strong infrastructure, thereby helping you reach your highest potential. KL Ads takes immense pride in analyzing, understanding, and accordingly designing and implementing different dimension signs. project.
Reception sign
Reception signs are unquestionably the focal contact point between a prospective client and your company. Due to this, enhancing the look of your reception can help you make quite an impression on your clients. One way of doing this is by designing captivating reception signs. We at KL Ads make focused, eye-catching, and intriguing reception desk signs to help your company stand out. Our office lobby signs come in different variants of styles, designs, and colors, all based on your choice. Our signs are meticulously tested beforehand to ensure that you receive only the most valuable services.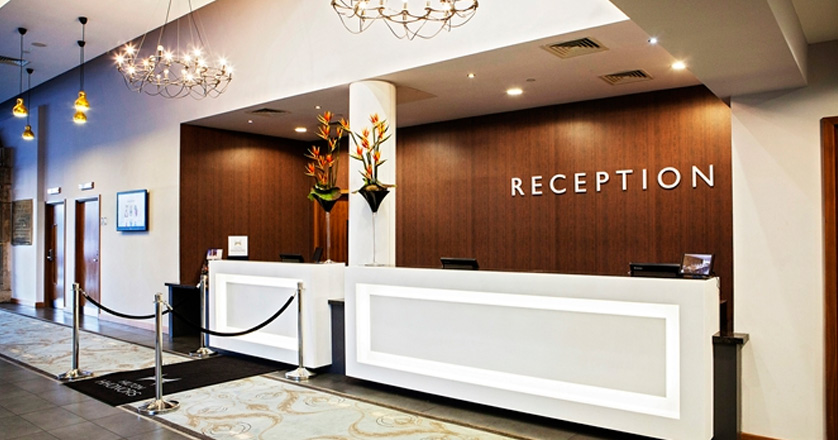 Lobby signs
Lobbies are one of the best places to advertise your brand or product. Numerous people pass through the lobby, and if your ad is eye-catching, then it can attract potential customers. Placing an ad strategically in the lobby of hotels, apartments, office spaces, or IT parks can gain maximum traffic. We at KL ads provide effective lobby branding advertisement solutions to give your business the much-needed boost. Our team of experts curates great lobby designs to increase your sales.
3D wall visuals
Filling the blank walls with 3D visuals is sure to attract your target audience towards your ad. Instead of simply putting up a simple monotonous poster describing your brand, go for 3D wall visuals. We at KL ads create effective 3D wall designs and produce 3D wall panels according to the theme and requirement of your company. At an affordable cost, a company can turn the blank spaces into something beautiful and increase your sales and profit with our 3D wall visuals advertising.
Wall graphics
If you get access to a blank wall in a happening place, make sure to utilize it for advertising purposes. Wall graphics are a colorful image with a few words printed on them. We at KL ads provide high-quality, unique, and creative office wall graphics. This will make the office space look fresh and bright. Any client visiting the office can take a glimpse at the wall graphics and get a good first impression of your company. We provide wall graphics for home as well, making your home colorful and attractive. Our team of experts ensures you get high-quality, relevant graphics for your office space or home at an affordable price.
One way vision
In this, an advertisement on one side of a glass panel is filled with a bright and vibrant poster. The one-way vision sticker is porous in nature and sticks to one side of the glass. It is called a one-way sticker for glass because people on one side of the glass can see the ad, while people on the other side cannot. At KL ads, we fabricate ideas for one way vision posters and enhance the visibility of your brand. We house a team of designers who come up with distinctive ideas.
Standee
We have gained prominence in the domain by providing high in demand Standee.Widely seen at product launches, exhibitions and trade show the offered standees are the cost effective product to grab the attention of the public. Made from quality tested material these standees can be availed from us with the option of graphic printing in a choice of sizes and patterns.
Poster
A poster comprises a good-quality image, a few catchy lines, and a logo of the company, printed on a thick sheet. Posters are one of the most commonly used advertising mediums as they are easy to create and do not cost much. We at KL ads make unique and creative postures, which will surely impress the targeted audience and drive traffic to the company. Our team works diligently to curate the best poster according to the needs of the company. We indulge in creating wall posters, event posters, and also aid in banner printing.
Letters On Wall
A wall is one of the best tools when it comes to advertising. You can paint and design the blank wall according to the theme of the company. Painting letters on the wall, like the alphabets of a company, or their motto, is a trending advertisement campaign. We at KL ads create some of the best letter wall decor ideas. With a few letters, a company or an individual can make a powerful impact on their audience. Our team curates metal letters and wooden letters for walls and several other types for a nominal price.
Canvas art
Canvas prints are a sure way to reach out to potential customers with a penchant for art. Our team consists of individuals who have immense knowledge on wall art painting and canvas art and therefore are capable of coming up with illustrations that define the soul of a brand. With artistry that speaks to the spirit of people and affordable rates, our canvas prints take branding and marketing to a whole other level that makes a brand stand out among the crowd.
Window graphics
Want to add some color and freshness to your existing office space? Well, what better way than to decorate the blank windows. Pasting a lucrative full-length poster will make the office space look better. We at KL ads design and produce great quality window graphics, which sits perfectly on the window and abides by the theme of the company. We have a team of experts who curate effective window graphics design.
Sun control film
Among other features, sun control film is an essential element for any car or building with glass doors and windows. This ensures the protection of people inside from unwanted solar radiation and discomfort. We provide innovative advertising ideas for sun control, which is easily noticeable by everyone. It not only ensures crowd connectivity but also helps you to reach your target audience. We provide this service for all types of establishments, such as a retail outlet, restaurant, corporate space, school, or hospital.
Frosted Glass sign
Frosted glass is the process of making the glass translucent. The texture is made slightly opaque and rough with the help of sandblasting. A design can be engraved on the frosted glass. The design can be the company logo, a quote, or anything relevant to the business. We provide effective frosted glass sign solutions. Companies with glass doors, glass windows, or glass partitions can utilize frosted window graphics. It gives an elite look and helps in promoting the brand. Our team ensures the best quality of frosted window signs and provides effective services for reasonable prices.
Modular signage
Places like malls require a lot of modular aluminum sign systems that are not only helpful but also attractive. We provide signages that can be utilized in multiple ways and can be used anywhere. Our cosign modular sign systems come in sizes 40, 52, 60, 80, 100, 120, 150, 225, and 300 MM, perfect for malls, hospitals, commercial buildings, and more. Our adept team understands the role that these signages will play in the future and come up with attractive designs that serve the purpose. With affordable prices combined with a comprehensive approach, this service is one of the most sought after ones
Our modular signage solutions are divided into two portions for catering to maximum needs. While the first serves well for commercial signage systems, our second model is dedicated to private purposes. From house placards to signages for shops, our modular aluminum signages that come in sizes 31, 62,93, 124, and 153 MM are uniquely designed and highlight creativity. We make sure to personalize each signage that we provide our clients and never follow a set pattern. This makes us one of the best in the industry, especially with our nominal rates for the spectrum of services that we provide.
Floor graphics
In marketing, every space is an asset for promotions, even the floor. You know it, and so do we, which is why we offer some of the best floor decals adverts in the industry. We understand how each 3d floor graphics are unique to a brand and how it becomes a poster child for the business. Therefore, all our floor advertising designs reflect the uniqueness of the brand and all that it has to offer to a customer. Not only do our designers provide you the finest floor decals, but they also make you stand out among the competition with their conceptual designs.
Counter display
Counter display stands are the best way for restaurants, cafes, and brick and mortar shops to promote new sales, discount offers, or the newest products. We know how important first impressions are, and therefore, we come up with designs for display counter for shops that are customer-oriented and attractive. Our designers, with their expertise in the advertising field, are equipped to come up with display ideas that make brands stand out amongst a competitive group. Unique designs, attractiveness, and affordability are some of the key features of this service that make it one of our most requested ones.
Institutional display
Institutional displays are used for indirect advertising of a brand by focusing on a particular theme over displaying the products. They are window displays and change frequently based on seasons and occasions. At KL Ads, we combine creativity with marketing knowledge to create institutional window displays that become the voice of the brand. Our team of experts is well-versed in designing a display that catches the eyes and attracts new customers. Whether for a mall or an independent building, our team is equipped to give you institutional window displays that have class and creativity aside from being affordable.
Dealersign board
We at KL Ads create the most eye-catching and durable dealership signs for companies. The dealer signboard is the primary object which promotes brand awareness among people passing by the brand's outlet. Trust us to make the best quality dealership signs for all types of shops and outlets and of all sizes. We offer amazing quality sign boards with letters of different features such as 3d, acrylic, and backlit. We customize the signboards based on the requirements of our client. We offer to make your dealership signs in the most cost-effective means.
Illuminated sign
Illuminated signs are an extremely effective means to promote one's brand name within retail spaces. We at KL Ads make a wide variety of illuminated signage exclusively customized for each client. An illuminated sign board can be a backlit sign board with energy-efficient technology. It can also have 3d led letters or be a halo-lit sign. We lay the greatest stress on energy-efficiency and cost-effectiveness while ensuring the most eye-catching illuminated signage for your brand at the same time. Get in touch with us, and we can get started on designing an exclusive illuminated signboard for your outlet.
Promotional display
Public places like railway stations and airports are excellent places to reach out to potential customers. Knowing well about the same, businesses resort to promotional display stands at such places. Understanding the need of our clients and their brand, our designers come up with display ideas that are unique and stand out in the crowd. With immense expertise in the field, we provide both promotional banner stand and counter displays depending upon which serves our clients and their goals the best. At nominal rates, our promotional displays not only attract customers but also contribute to creating a unique brand image for business.